How to plan a trip to Ushuaia and El Calafate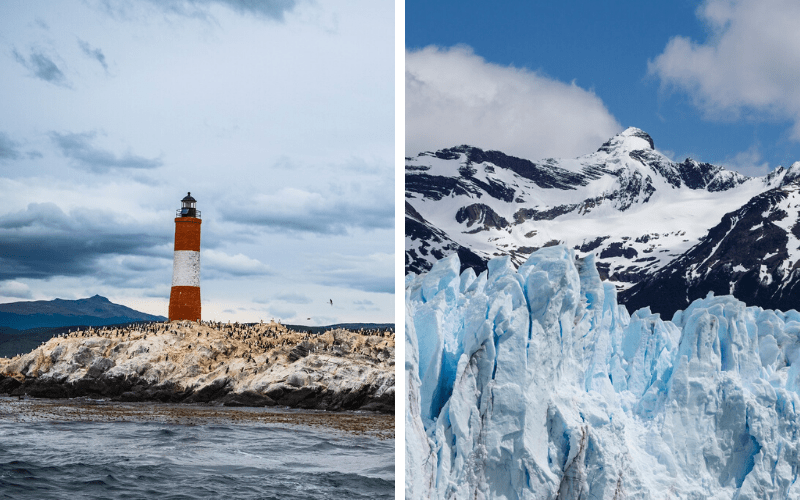 Ushuaia and El Calafate are synonymous with unforgettable experiences. Both cities have a great tourist attraction and receive thousands of people willing to discover their charms. Is it possible to combine both destinations in a single trip? In this article, we will provide you with all the information you need to organize your next trip to Ushuaia and El Calafate.
How to plan a trip to Ushuaia
The southernmost and most beautiful city, also known as "The End of the World". The place that everyone wants to visit and to which everyone vows to return when they leave. One of the characteristics of Ushuaia is its ability to reinvent itself during the different seasons. The colors and scenery change according to the time of the year, product of the wonders of nature.
The mixture of forest, bay and the last stretch of the Fuegian Andes summons thousands of people every season, who come eager for enjoyment and passion for adventure and enjoyment.
In Ushuaia, you can enjoy outdoor activities such as tours of its lakes, visits to the Tierra del Fuego National Park and navigation through the Beagle Channel. It is an ideal destination to spend several days. There is a lot to know!
How to plan a trip to El Calafate
El Calafate is located in the southwest of the province of Santa Cruz. There are many activities that can be done in this beautiful town: water sports, horseback riding, visits to museums and ranches. But its main attraction is, hands down, the visit to the Perito Moreno Glacier, which is located inside the Los Glaciares National Park.
There are many ways to visit and experience it. You can choose to go sailing, trekking on the ice or simply contemplating its gigantic beauty from its galleries. The glacier is located 80 kilometers away from the city and all tours include transfers.
Is it possible to combine a trip to Ushuaia and El Calafate?
Of course! Although they are two destinations that offer many alternatives to enjoy, it is possible to organize a trip to Ushuaia and El Calafate. The most important thing to consider is the choice of the activities we want to do and to be able to combine them with the amount of days we have for the trip. Trekking, walks, natural wonders, gastronomic delights and comfortable hotels: all this and much more awaits you in this land!
Final recommendations for your trip to Patagonia
Here are some tips to help you best plan your trip:
Choose the time of the year that you enjoy the most according to the activities you want to do. A fact that may interest you is that the glacier's landslides occur between September and April.
If you plan to travel by plane, the sooner you book your flight, the more likely you are to find a fare that suits you. Have you thought about making the trip by car? It is a unique experience, but keep in mind to have your car serviced ahead of time.
Whatever the season, changes in temperature and weather are common. It is advisable to have layered clothing; if possible one or two raincoats, sunscreen and sunglasses.
Look for accommodation to suit your needs: book in advance at your hotel, hostel or apartment to get more options.