Looking for adventure tours in Ushuaia? In itself, traveling to the End of the World is already synonymous with adventure. It is an epic, unique and unforgettable trip where the most beautiful landscapes of our country coincide with the southernmost latitudes of the map. A worthwhile experience, hands down.
In addition to the incredible landscapes, an advantage of Ushuaia is the wide range of excursions and activities to suit all tastes and budgets. Family trips, activities for children, classic tours and, of course, adventure excursions are just some of the possibilities. Always varying according to the difficulty, the time of the year and the interests of each passenger.
Today, we share with you the best adventure tours available in Ushuaia:
The trekking trail begins next to the Grande stream, where we ascend enjoying the forest and the typical Fuegian vegetation. Finally, we will arrive at the lagoon and the Vinciguerra glacier. Here you will find the most incredible ice caves in the world. No, we are not exaggerating.
During this tour, you can enjoy lunch at the lagoon and free time to explore the area. If you are lucky, you may come across the occasional beaver.

Undoubtedly, this is one of the most beautiful landscapes of Ushuaia where a beautiful trekking is combined with an incredible lunch.
This tour is ideal to enjoy the famous and captivating Esmeralda Lagoon in a different way. The hike to the lagoon allows you to contemplate unique landscapes, crossing streams, forests and mountains.
In addition to enjoying this majestic place, we will enjoy a tasty lunch.

This tour allows you to enjoy 8 hours immersed in the nature of Tierra del Fuego National Park, Combining an intense hike with a trip in inflatable canoes through rivers, sea, mountains and forests.
The tour goes through the trails of the park up to the Acigami Lake where lunch will be served. But the tour continues…
Equipped with rubber boots, pants covers and life jackets, we will cross the lake aboard inflatable canoes (duckie type), following the slow flow of the Lapataia and Ovando rivers. Finally, we will see the transition from fresh water to the sea at Lapataia Bay.
This tour is our fun and intense way to get to know the secrets hidden behind the Southern Andes.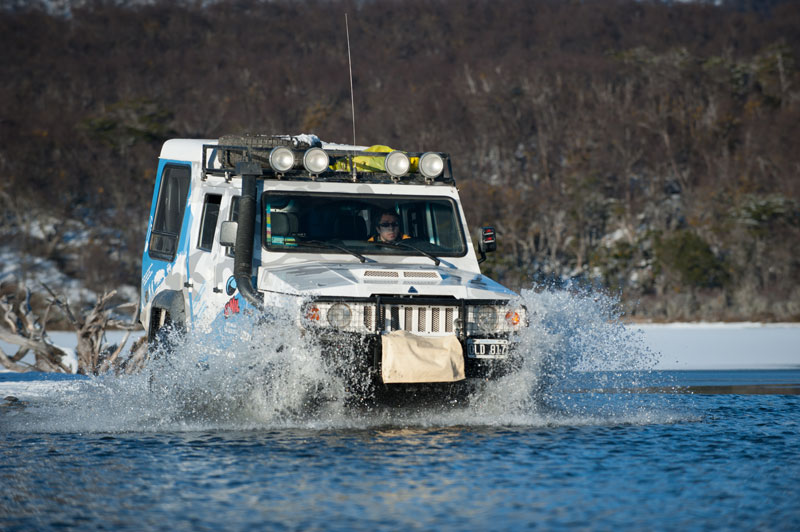 During this tour, you can enjoy unique and inaccessible landscapes. For example, from the Cordillera, we will see the Escondido Lake, a small wonder hidden at the bottom of a valley and the gigantic Fagnano Lake.
We will cross the forest and the different rivers aboard a Land Rover Defender.
If you visit Ushuaia in winter season, you can also take this same excursion, but adding snow and totally white landscapes. This tour offers you a full day of snow, mountain and forest activities.
Remember that it is recommended to bring technical gear for most of the adventure tours. You can buy it in town.