The birthday of the lighthouse!
In 2020 it is the birthday of our favorite lighthouse. The quintessential icon of Ushuaia, the one that appears in all the photos of travelers who have navigated the waters of the Beagle Channel, without exception. Their name is Les Éclaireurs (the explorers, in French). If his figure appears in your photographs, we are sure that you visited Ushuaia. This year we celebrate his 100th birthday.
Of pioneers and explorers
Why is it that when we talk about lighthouses we are overwhelmed by a certain mystique? Perhaps it is because we also talk about the stories that these lighthouses illuminate. Of the sailors who arrive at a destination looking for new horizons and lay their foundations by creating a community. Of those who set sail for distant lands and return, or perhaps not. Of pioneers and explorers who by chance or conscientiously have come this far, sailing the icy waters of the end of the world. And why not some other castaway who also decides to plant a flag.
The unmissable postcard
The setting is exceptional. The solid rocky islet on which the lighthouse stands is located on the calm, crystalline and blue waters of the famous Beagle Channel. The Fuegian Andes of the Martial chain, meanwhile, provide a beautiful setting, creating the ideal postcard for any visitor. Although the island cannot be accessed, it can be reached by several boats that get close enough to appreciate it in all its magnitude.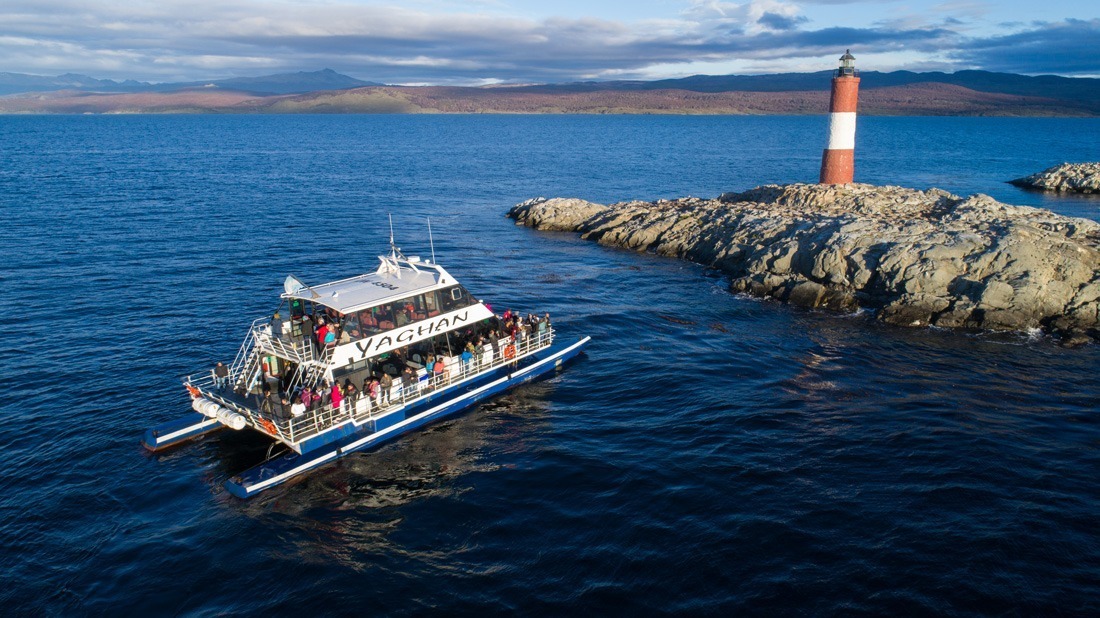 Lighthouse at the end of the world?
Many like to name it as "Lighthouse at the End of the World", and many like to clarify that it is not just such a lighthouse but another. Certainly, it is often confused with the inspirational lighthouse of Jules Verne's renowned novel. However, this is located in the Islas de los Estados, 300 kilometers east of Ushuaia. For more information, the novel was published after the death of its author, in 1905, while our lighthouse began to function in 1920. That is why we are celebrating its centenary! And for that too, he could never have been the one mentioned in that story.
Although Ushuaia was already a national territory, at the beginning of the 20th century everything was still quite uncertain in these latitudes, everything was yet to be built. We will never know if the Les Eclaireurs lighthouse has witnessed such feats as those described in the book. The stories of pirates with booty, explorers, lighthouse keepers, schooners, treasures and shipwrecks will remain in the imagination of each one. The setting is, without a doubt, very suggestive.
His description…
When describing it, we could say that it has a slightly conical tower 11 meters high and 3 meters in diameter. It is covered with brick painted in three stripes: red, white and red. Its flashlight is located at a height of 22.5 meters above sea level and emits white and red light at 5-second intervals. It is automatic and powered by solar panels.
With great happiness, in December we will count its first 100 years. It is nothing more and nothing less than 36,500 days, officiating as a lookout for sailors of all types and species, which is no small thing. We will continue dedicating photos and journeys to it, hoping that it will tell many more new centenarians.