For purchases with less than 48 hours communicate by WhatsApp.
Prices may vary according to dates and seasons.
The excursion consists of a navigation through the Canal De Los Témpanos of Lake Argentino that allows us to appreciate the north wall of the Perito Moreno Glacier and the rupture zone. It approaches 300 meters from the wall.
Boarding takes place at the port located in the "Puerto Moreno" bay, approximately 1 km from the Mirador del Glaciar. This excursion lasts approximately 1 hour and offers the possibility of observing with a totally different perspective the impressive walls of the Perito Moreno Glacier and its continuous landslides. Interesting for photographs and filming.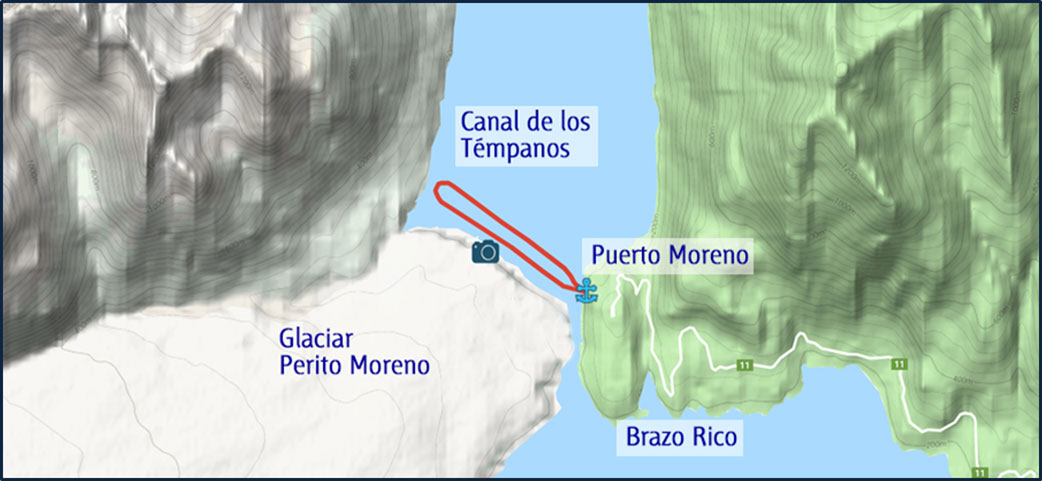 Temporada:Anual
Duración:1 hs.
Salidas: días pares.
Modalidad:Regular
Tener en cuenta:se hace en conjunto con las pasarelas el Glaciar Perito Moreno.
Atractivos:Pared norte Glaciar Perito Moreno

Recomendaciones:
Clothing: It is advisable to wear comfortable shoes and warm clothing (sweater, diver, and windbreaker and/or waterproof jacket). Sunglasses, sunscreen and gloves. También gorro para sol o de abrigo en caso de que haga mucho frío.
Smoking: Smoking is prohibited in the National Park, it is only allowed in the parking areas.