For purchases with less than 48 hours communicate by WhatsApp.
Prices may vary according to dates and seasons.
NATIVE EXPERIENCE
Nativo Experience is a half-day excursion in a 4x4 along the coast of Lake Argentino. Ideal for the day of arrival or departure, it has an anthropological approach, taking a journey through time on the passage of man in these lands, rediscovering stories of the first expeditions and daring who ventured into the unknown.
Between the cliffs and with views of the Andes Mountains, the excursion focuses on the first contacts of those expeditionaries with the natives, to later enter the Tehuelche world. On the shores of the lake are the caves where thousands of years ago that culture left its marks on the rock and which today introduce us to its interpretation.
Native Experience Schedule:
PICK UP BY THE HOTEL
Our 4x4 vehicles will pick you up at your hotel to begin a journey through the Patagonian steppe.
ARGENTINE LAKE
On the shores of Lake Argentino our guides give a talk about the formation of the landscape of the place, about the native fauna and flora.
PUNTA BONITA CLIFF
We make an ascent to obtain an incredible panoramic image of the city and its surroundings. From there we appreciate the extension of Lake Argentino and the Andes mountains.
ARCHEOLOGICAL SITE
We walk (500m) through the archaeological site while we interpret the meaning of the cave paintings we see on the rocks and the techniques used to make them.
FOOD IN THE CAVE
We end the tour enjoying a delicious Patagonian meal in an unforgettable location.
DURATION: 4 hours
FREQUENCY: Daily departures.
MEETING POINT: Hotel.
IT INCLUDES: Lunch or dinner
DEGREE OF DIFFICULTY: Easy.
RECOMMENDATIONS: Coat (hat, gloves, jacket, raincoat). Glasses and sunscreen.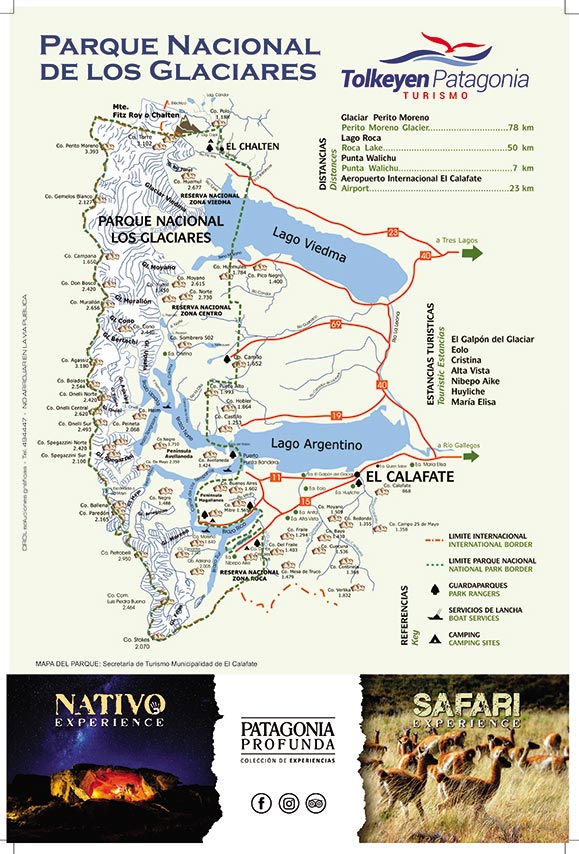 ASK US ABOUT THIS EXPERIENCE